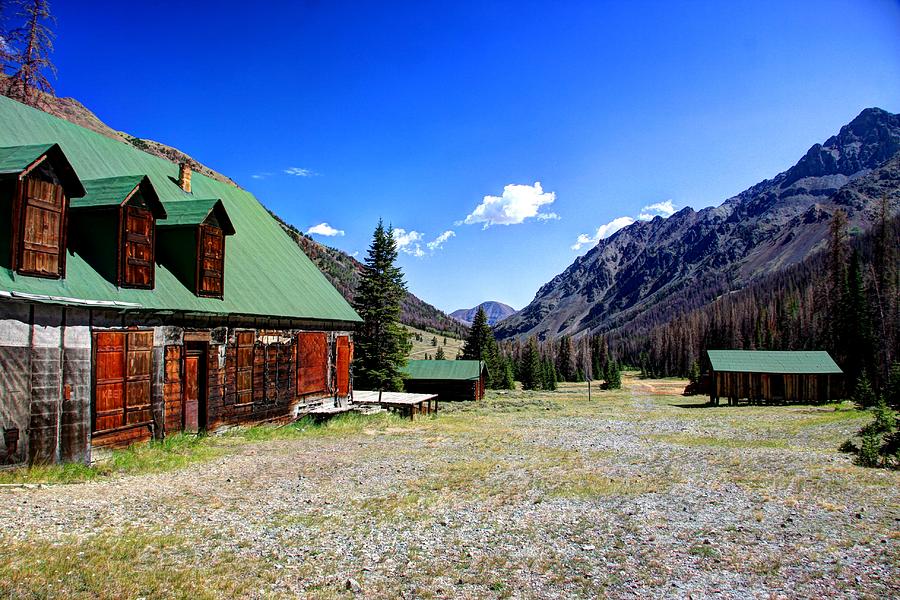 Do you believe in spirits of the past? While "ghost" towns aren't all haunted, abandoned places and paranormal activity go hand in hand. While many of Wyoming's old mining towns were abandoned after the mines dried up and the mining economy busted, one particularly beautiful place was shuttered quickly – after an avalanche killed many of those who lived here. What was once a thriving destination for workers and vacationers was turned into a ghost town overnight – but many claim that not all of those who fell in love with Kirwin truly left. According to a recent paranormal investigation and documentary, this is an eerie haunted town in Wyoming with some intense paranormal activity.
Kirwin is an old mining town hidden away in the Absaroka Mountains near the headwaters of the north fork of the Wood River.
It's a remote location, and you can see in the photo above just how off-the-beaten-path this community once was. The town is named after William Kirwin who found gold and silver on Spar Mountain in the 1880s while hunting with a friend.
After the discovery, word got out and many prospectors came to the region to seek their own fortunes. The town had a hotel, boarding house, 2 general stores, a sawmill, post office, cabins, stables and meat storage sheds.
Stagecoaches traveled back and forth between Meeteetse and Kirwin for supplies and provisions. At its peak, Kirwin was home to 200 miners and their families, but the town was quickly faced with disaster.
In 1905, there was a mine explosion and in 1907, an avalanche hit the area, destroyed buildings and killed three people. Nearly overnight, families and miners fled the seemingly cursed community. Kirwin wasn't just a miner's town, though. It had been a remote getaway, too. In fact, Amelia Earhart vacationed here in 1934 and fell in love with the area.
She was in the middle of building a cabin there when she disappeared during her flight in 1937. Today, there are a few unusual things going on there. Haunted Hotels teamed up with Adventure Myths for a paranormal investigation and documentary.
You can watch the film at the bottom of this article to see what they found. The investigation team spent four days observing, investigating and filming the paranormal activity.
While there, they camped out on the second floor of the mine. There are dozens of buildings still standing in town, and each one is eerie. The ghost hunters found something creepy – a voice calling out to Ness, one of their crew.
It seems like rumors of Kirwin's hauntings may be true, after all. Another strange occurrence happened when they placed a bottle of whiskey on a table.
Whenever the crew mentioned the whiskey, the paranormal investigative device that measured energy would spike to the highest level. Spirits must appreciate a fine spirit. The footage recorded footsteps, knocking and other strange noises. The camera captured orbs and floating objects that behaved in an odd manner.
Could these images be the captured and restless spirits of those who perished here? The documentary was released in 2014 and is called "Kirwin: The Impossible Journey".
You can watch to see just how eerie a night in this haunted town in Wyoming can be.
Check out the trailer for the documentary by YouTube user, AdventureMyths.