By: Meagan Navarro …..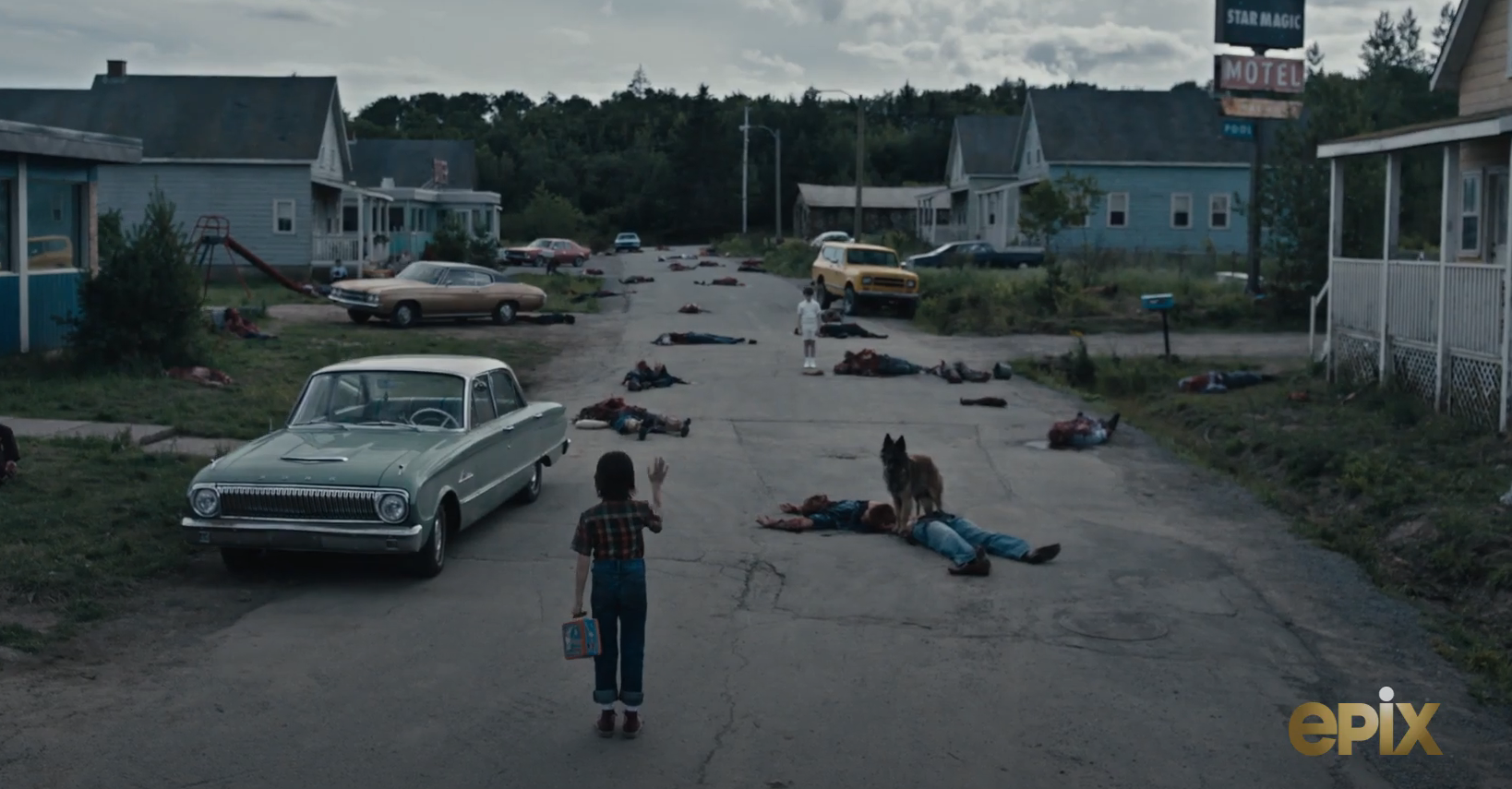 Our review of EPIX's "From" covers the first four episodes.
The talent behind EPIX's newest horror series, "From," boasts no shortage of names tied to event television series, setting high expectations from the start. Executive producer Jack Bender ("Lost," "Game of Thrones," "Mr. Mercedes") directs, with executive producer Jeff Pinkner ("Fringe," "Alias," "Lost") serving as showrunner and John Griffin (Crater) as the series creator. The ensemble cast rounds out the talent, culminating in a captivating and nightmarish mystery box show that more than delivers.
"From" wastes no time establishing the horror; an opening sequence sees a quaint town rushing to shutter their windows and doors before nightfall. We then see why when a young girl hears a tapping at her second-story bedroom at night by an older woman claiming to be her grandmother. The aftermath is shockingly gory. Cut to a family of four traveling by RV, who soon find themselves trapped in this strange town. They're the latest among residents who'll have to adapt to survive both the monsters lurking in the dark and the bizarre phenomena that plague this mysterious place.
The central characters anchor a densely packed narrative and its endless web of questions. Harold Perrineau's Boyd Stevens acts as the town's Sheriff, but the responsibility of keeping everyone safe and making the hard choices weighs heavily on his soul. Deputy Kenny (Ricky He) attempts to keep the peace for the settlement and within his family. The rougher around the edges Donna (Elizabeth Saunders) leads the town's other encampment, a more communal hippie-living space. Victor (Scott McCord) represents the town weirdo, his mind warped by being stuck there the longest. Then there's the audience proxy in newcomers Jim Matthews (Eion Bailey), wife Tabitha (Catalina Sandino Moreno), teen daughter Julie (Hannah Cheramy), and son Ethan (Simon Webster). More than just learning the ropes of their bizarre new situation, the Matthews family comes with a set of interpersonal conflict and pain.
Every character comes with complex individual relationships and family drama that makes the setting lived in and maintains interest between supernatural events. Though Bender, Pinkner, and Griffin don't skimp there, either. Deadly, ravenous creatures are only one mystical facet to what's happening, and it's clear that "From" will bide its time in doling out the answers. Every question answered raises new questions, and the characters layer in new obstacles that either prevent them from inching closer toward reveals or end in bloodshed. Actions can and do have lethal consequences in this place.
So far, "From" draws easy comparisons to "Lost." Both revolve around an ensemble cast stranded in an enigmatic setting far removed from society. Both are mystery box narratives with a smart structure that zips along with an easily digestible pace. That familiarity dampens the freshness just a smidge, but "From" leans far more into horror territory. It never fails to shy away from the gorier elements to demonstrate just how high the stakes are in this warped place.
If "From" maintains this level of intricate storytelling and continues to wield the horror for maximum impact, it can quickly become event television. Only four episodes in, it's already a gripping series that makes you eager to tune in to see what happens next. From authentically complicated characters that'll tug at your heartstrings- particularly Perrineau and He- and occasionally frustrate (much of the Matthews) to the unending string of mysteries punctuated by genuine scares. It's as though Bender, Pinkner, and Griffin dropped their characters into a modern horror fairy tale without their knowledge, one with sharp teeth that goes for the jugular.